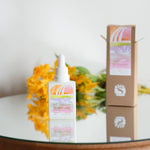 Celebrating Full Spectrum CBD
Happy 420! For the uninitiated, April 20th (aka 420) is an annual stoner holiday. It's when cannabis-lovers unite to celebrate the powers of this remarkable plant. The holiday hurrah has always focused on the intoxicating effects, but this year we want to celebrate the full spectrum of cannabis, from THC to CBD. 
Cannabis contains hundreds of cannabinoids beyond the THC it's so often associated with. There are terpenes and flavonoids and, of course, more than 100 different cannabinoids. Although 420 may have a history with THC, this year let's instead look at one of the other famous cannabinoids: cannabidiol (CBD). 
Going Beyond THC: A Rainbow of Cannabinoids
Cannabis is about more than THC. That much is clear. Thanks to the exploding field of cannabis-centred research, everyone is frantic to discover the next great cannabinoid or terpene and its subsequent medicinal applications. 
Each and every cannabinoid and terpene found in cannabis (and its non-intoxicating cousin, hemp) has potential. The second most prevalent cannabinoid, CBD, is one of these exciting compounds. 
Largely sourced from hemp, CBD offers a mild alternative to the intoxicating potency of THC. Instead of a noticeable high, CBD's effects are calming. There is no high, in fact, but the cannabinoid offers many comparable therapeutic benefits because of its remarkably similar molecular structure. 
It's still in the early days, but preliminary research suggests CBD reduces anxiety, soothes inflammation, provides pain relief, and much more.  
These applications need to be tested and tried through proper clinical trials, but that hasn't stopped this cannabis-derived compound from exploding in popularity. We think even the potential of CBD is worth celebrating this upcoming 420. 
The Synergistic Effects of Full-Spectrum Extractions
Cannabis has more to offer than just a single cannabinoid in isolation. There is a growing call for full-spectrum extractions, which capture the plant's essence including a range of terpenes, cannabinoids, and flavonoids.  
The full-spectrum theory, also called the Entourage Effect, describes how cannabis compounds work better together than they do as isolates. The most famous example is the combination of THC with CBD. Each holds therapeutic properties, but when they are combined, they create synergistic value.  
Studies have demonstrated that both THC and CBD are analgesics and anti-inflammatories, and each has a dose-dependent sleep effect. If combined, the Entourage Theory suggests these benefits compound for even greater relief.  
All cannabinoids work within the endocannabinoid system, but each with subtly different mechanisms of action. A full spectrum of cannabinoids is a multifaceted option for targeting health issues. 
Do you need a more immediate example of how to combine cannabinoids for synergistic benefit? Let's start with THC and CBD. 
For anyone who wants to celebrate 420 but is sensitive to the intoxicating effects of THC, CBD is a smart pairing. One of the mutual benefits of combining CBD with THC is how it calms down the heightened effects. You'll still feel the effects of THC, but the length and strength of the high are greatly reduced.  
Not Just for 420, Sunnyside Botanicals Now More Affordable Than Ever
Although perfectly timed to celebrate the upcoming 420 holiday, our recently lowered prices aren't a one-time discount. To us, affordability and availability are much more important than just a once-a-year sale. 
We have permanently lowered our prices to reflect our dedication to our customers. For example, our full-spectrum CBD tinctures are now $10 to $24 cheaper (depending on size). We've made the same changes to our CBD isolate tinctures as well. You'll now pay only $49 for 600 mg instead of $59.  
It's the same full-spectrum CBD formula, the same high-quality extraction, now just at a better price. This isn't a limited-time sale or a marketing gimmick. This is our real commitment to bringing the power of CBD to more people with a lower price tag. 
A Universe of Cannabinoids to Celebrate on 420
When 420 rolls around this year, we are planning to celebrate much more than a single cannabinoid. Instead of focusing on the intoxicating and euphoric properties of THC, we are going to be honouring the whole plant, starting with CBD. 
Part of that journey will include Sunnyside Botanicals Full-Spectrum CBD extract. Now with a lower price, it's the perfect companion for wherever you end up on April 20th. Its gentle, full-spectrum powers are beneficial on their own or paired with a THC treat.